Nanjing Gorray has developed single screw extruder with some new features, most of which are targeted for energy-saving, high productivity and easy control.
·Advanced screw design to optimize the output and keep melt at lower temperature;
·Overload protection by reliable flexible coupling;
·Accurate temperature control system;
·Convenient erection & adjustment
Single screw extruder is one of the core extrusion equipments in polymer processing and is also a key component in many other processing operations. The preliminary aim of a single screw extruder is to build pressure in the polymer melt. With sufficient pressure the melt can be extruded through a die or injected into a mold. A single screw extruder brings in solids in either pellet or powder form and melts them as well as building the pressure.
Thus a single screw extruder is widely used for direct extrusions such as sheet extrusion, film extrusion, pipe extrusion, tube extrusion and profile extrusion.
In some cases, those pro-water polymers such as PET, PMMA, PC need venting or vacuum. So a high efficiency venting system will be furnished. In plastic recycling process, venting of a single screw extruder turns out to be a necessity.
A single screw extruder can be a good match for twin screw extruder, which is herein referred to as dual stage extrusion line in Nanjing Gorray, a new experienced extruder supplier in China.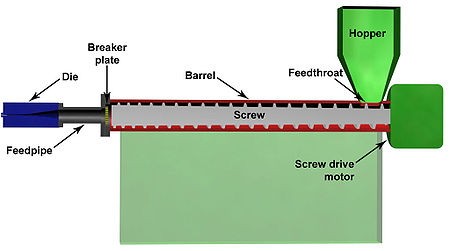 Single Screw Extruder
| | | | | | |
| --- | --- | --- | --- | --- | --- |
| Model | Screw Diameter(mm) | L/D Ratio | RPM | Motor Power(kw) | Capacity (kg/h) |
| SJ20 | 20 | 28-32 | 150 | 3 | 3-10 |
| SJ30 | 30 | 28-32 | 150 | 11 | 10-30 |
| SJ45 | 45 | 28-32 | 120 | 22 | 50-80 |
| SJ65 | 65 | 28-32 | 93 | 55 | 80-150 |
| SJ90 | 90 | 28-32 | 93 | 90 | 100-350 |
| SJ120 | 120 | 28-32 | 93 | 132 | 200-600 |
| SJ150 | 150 | 28-32 | 75 | 220 | 400-800 |
| SJ180 | 180 | 28-32 | 75 | 315 | 500-1000 |
| SJ200 | 200 | 28-32 | 65 | 400 | 700-1500 |
| SJ220 | 220 | 28-32 | 50 | 500 | 800-1800 |
| SJ240 | 240 | 28-32 | 50 | 600 | 1000-2500 |
Single Screw Extruder with Venting or/and Vacuum
Specifications
| | | | | | |
| --- | --- | --- | --- | --- | --- |
| Model | Screw Diameter (mm) | L/D Ratio | RPM | Motor Power(kw) | Capacity (kg/h) |
| SJP30 | 30 | 28-32 | 150 | 11 | 10-30 |
| SJP45 | 45 | 28-32 | 120 | 30 | 30-60 |
| SJP65 | 65 | 28-32 | 93 | 55 | 40-120 |
| SJP90 | 90 | 28-32 | 93 | 90 | 120-280 |
| SJP120 | 120 | 28-32 | 93 | 132 | 200-450 |
| SJP150 | 150 | 28-32 | 75 | 220 | 400-600 |